Interesting Facts About Rishikesh – It is a remarkable location that accurately portrays Indian culture and values in the lives of all Indians. Rishikesh reconnects Indians with their origins and recalls the rich history of Indian preaching. It is densely packed with temples such as Swargashram, Parmarth Ashram, and many others. Rishikeshi is a religious area that is a tehsil in the Dehradun District, Uttarakhand's capital. The city is located in northern India, at the foothills of the Himalayas. According to the 2011 census, the male population was 54,466 and the female population was 47,672.
Rishikesh has a unique feature in that it is surrounded by three districts: Garhwal, Pauri Garhwal, and Haridwar. Rishikesh is regarded as the beginning place for the Chardham pilgrimage, which encompasses Badrinath, Kedarnath, Yamunotri, and Gangotri. The distance from Haridwar is 25 kilometres, while the distance from Dehradun is 43 kilometres south-east.
There are several intriguing facts about Rishikesh. Here are some of them:
The Lord of the Senses
Hrsikesa is the name of Lord Vishnu derived from the words "hrsika" which means senses and "isa" which means Lord, hence Lord of the Senses. Another legend holds that Raibhya Rishi performed his tapasya here, which is why it is known as Lord Hrishikesha. It is roughly an hour south of Haridwar and is also one of India's holiest towns.
The World's Yoga Capital
This location is also known as the "Yoga Capital of the World" due to the abundance of yoga hubs. The city attracts tourists and visitors since it is widely thought that meditating will bring one closer to the stage of Attainment of Moksha after having a dip in the Ganges. Rishikesh's yoga legacy is immaculate, making it an ideal location for spiritual awakening in the midst of nature.
Gateway To Char Dham
Explore the Char Dham, which includes Kedarnath, Badrinath, Gangotri, and Yamunotri, to find eternal spirituality and tranquillity. A location thought to give ageless meditation that frees one from the cycle of life and death. Another fascinating thing about Rishikesh is that it is the starting point for the Char Dham Yatra.
Pure Location
For those who are unaware, alcohol and non-vegetarian meals are not available in Rishikesh. Since the place is regarded as sacred land and a major pilgrimage site in the country, alcohol and non-vegetarian meals are strictly prohibited. Even the Yoganagri's cafés and eateries do not provide them.
High Literacy Rate
When compared to the national average of 74.04 percent, the literacy rate is about 86 percent. Yoga Nagri has a plethora of yoga centres that have opened after taking the pledge of Happy India; they are a tourist attraction. Rishikesh is home to AIIMS, one of the six premier health care institutes created by the Government of India's Ministry of Health and Family Welfare. The AIIMS was established with the purpose of eradicating regional disparities in quality healthcare in India.A visit to the Beatles Ashram in RishikeshAyurvedic Massage in RishikeshBoating in the Ganges in RishikeshBungee JumpingCulinary delights at various cafés in RishikeshMeditational bliss in RishikeshMountain Biking in Rishikesh,uttarakhandTrekking in RishikeshUttarakhandWhite Water Rafting in RishikeshYoga Retreats in Rishikesh well as student training.
Ayurvedic Treatments
In the city, the long-lost tradition of ayurvedic therapy is still alive and well. Rishikesh is well-known for its Ayurvedic therapies, and many Ayurvedic physicians work there. On 4 June 2015, the first Ayush Centre was established to instil trust in Ayurveda among Indians. Ayush stands for The Department of Ayurveda, Yoga and Naturopathy, Unnani, Siddha, and Homeopathy of India. Shripad Yasso Naik thought that Ayurveda, Yoga, Naturopathy, Siddha, and other complementary therapies will be studied at Rishikesh.
The 133-year-old Kailash Ashram BrahmavidyaPeetham is located here.
Rishikesh is home to the world's finest residence, the 133-year-old Kailash Ashram Brahmavidyapeetham, which is committed to maintaining and promoting ancient Vedanta studies. Swami Vivekananda, Swami Rama Tirtha, and Swami Sivananda were all educated at the institute.
Penance Of Lord Rama
The Mother Ganga runs through this city, and it is also stated that Lord Rama performed penance in this city for killing Ravana, while Lakhsman, Lord Rama's younger brother, crossed the river Ganges, which is why LakshmanJhula is standing on a jute rope bridge. In 1889, an iron-rope suspension bridge replaced it.
The Ram Jhula
Another moving bridge is Ram-Jhula, which was built in 1986 and is close to Sivananda Nagar and Shatrughna Mandir, Bharat Mandir, and LakshmanMandir. The TriveniGhat is well-known for the Ganga Aarti, which attracts both visitors and preachers. Indians' emotional devotion to their culture is the finest example for people throughout the world.
Loved By Rafters
Rishikesh is a fantastic location for rafters; it is a popular destination for white-water rafters from India and throughout the world. The peak season for river rafting begins in March and lasts until September. Backpacking, bungee jumping, trekking, kayaking, mountain biking, rock climbing, rappelling, and zip line are all popular activities in Rishikesh.
Aarti of the Divine Ganga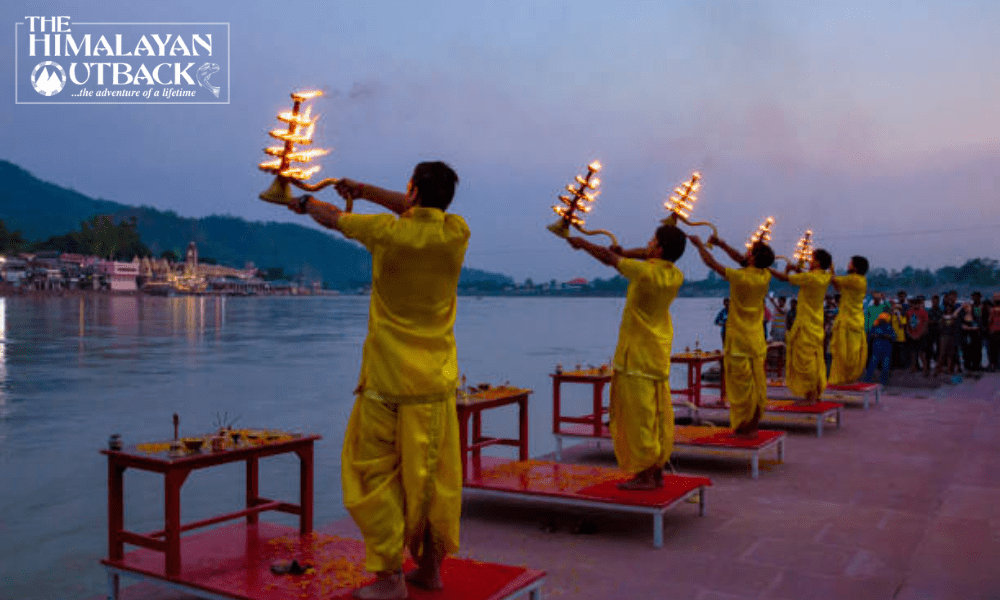 Long songs spoken by Brahmin Pundits on Triveni Ghat to offer prayers and flowers to Goddess Ganga create a beautiful environment. The glowing lamps on the Ghat provide a serene and emotional experience for all visitors.
Divine Temples And Monuments
A town is filled with gorgeous temples and monuments. Everything to behold is a heavenly and faultless beauty, from the Neelkanth Mahadev Temple to the Beatles Ashram and Rama Jhula to Lakshman Jhula.
The Happy Rishikesh Song
'The Happy RishiKesh Song,' originally recorded in the first half of 1980, was prompted by John Lennon's 1968 journey to India, where The Beatles learned Transcendental Meditation with Maharishi Mahesh Yogi.
Conclusion
So here are some interesting facts about Rishikesh. Rishikesh is a lovely town that mixes the pleasures of holy spirituality with breathtaking natural beauty and traditional adventure sports. Providing an experience that will stay with you and enchant you, Book your travel vacation with The Himalayan Outback and discover the best location.