Jim Corbett National Park, originally known as Hailey National Park, was established in 1936 and is India's oldest national park. It is one of the most popular tourist destinations for wildlife and environment enthusiasts in India. Jim Corbett National Park Near has several beautiful Lodges And Resorts, making it an ideal destination not just for safari and wildlife photography lovers, but also for families and friends looking to spend a few days in the beautiful Himalayan foothills.
5 Resorts in Jim Corbett National Park Near River
Jim Corbett National Park has a number of budget-friendly resorts. The top 5 budget-friendly lodges and resorts in Jim Corbett National Park near River are addressed further below.
1.The Himalayan Outback's Lodge
The Himalayan Outback has its own lodge just outside the Corbett National Park, located on the banks of the pristine Ramganga River. It is a location where one may witness the beautiful big cat "Tiger" as well as catch the world's hardest sports fish, the "Mahseer."
Ideal for small group – great place for bonding with friends and family.
The meals served at The Himalayan Outback are delectable and are a gourmet's delight. Our chefs will serve you with a variety of delicious cuisines.
What's Unique: The friendly staff and timely service guarantee that the clients' specific needs and expectations are fulfilled.

2. Corbett Machaan Resort
Snuggled in the lap of nature, Corbett Machaan Resort is one of the best Jim Corbett resorts for large groups looking to experience a jungle safari. Corbett Machaan Resort delights every visitor with a sit-out area or machaan, Gol Ghar-the designated bonfire site, live music every evening, and jungle cycling.
What's Unique: A wildlife library with documentaries and books.
3. Corbett Treat Resort
If you're searching for an action-packed holiday in Jim Corbett, make a reservation at Corbett Treat Resort. The resort provides great value for money, from cycling trips in the forests and adjacent towns to overnight jungle patrols. The resort's feature is Café Hoho, which serves excellent local and international food.
What's unique: From the rooftop, you may gaze at the stars via a telescope and see the forest with special night vision binoculars.
4. Corbett Treetop Riverview
This Sterling heritage lodge is one of the nicest in Jim Corbett National Park. Corbett Treetop Riverview is a captivating resort for travellers looking to unwind and revitalise with a breathtaking view, an open-air BBQ, and a refreshing swimming pool. Wildlife enthusiasts, environment lovers, and bird watchers want to stay at Corbett Treetop Riverview not only because of the exceptional luxury, but also because of the remote and breathtaking location.
What's Unique: Located on the banks of the Ram Ganga, the resort provides breathtaking views of the river, forest, and waterfalls.
5. The Corbett View Resort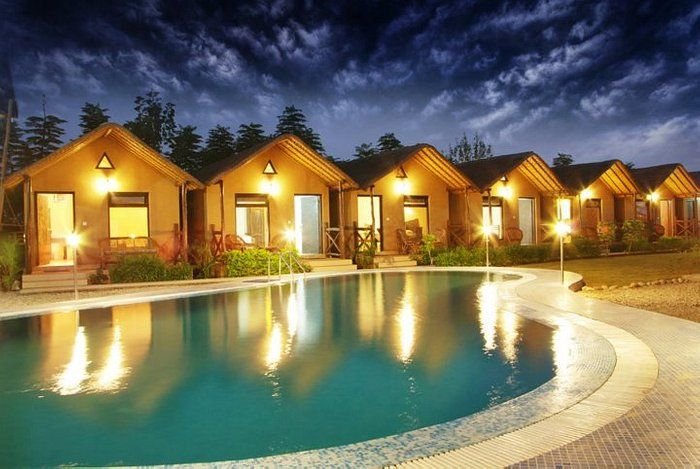 Corbett View Resort, located near Jhirna gate, is one of the nicest locations to stay in Jim Corbett. The resort's in-house safari booking desk assists all visitors by planning and reserving elephant and jeep safaris, as well as guided jungle walks. The resort's setting is breathtaking.
What's Unique: Machaan – a sit-out place with a watch tower where you may sit, relax, and see animals.
Conclusion
The above was the description of top 5 budget-friendly lodges and resorts in Jim Corbett National Park. Book your trip with us and have an enthralling trip.